While going out with friends certainly has its charms, there's something especially special about entertaining at home. Opening your home to friends for an evening of togetherness helps foster community while giving you an opportunity to take pride in the space you've cultivated. Entertaining can also offer a host of other benefits. Playing party games develops stronger bonds, boosts creativity and improves your emotional health. Cooking for others can improve your confidence and happiness while strengthening your sense of connection to others. If you're looking for permission to have a get-together, consider it granted by your friends at Wovenbyrd.
Wovenbyrd wants you to celebrate your home and your community, and we want to make sure you and your guests are set up for a seamless and joyful time together. We've compiled a list of modern etiquette tips for successful home entertaining.
1. Plan Mindfully
Entertaining is different from just a regular hangout and requires an extra bit of planning. Your two goals in planning should be 1. That each guest feels comfortable and considered and 2. That you are able to enjoy hosting without stress.
To achieve these goals, Wovenbyrd offers these tips for mindful planning:
Keep the guest list selective. Invite only as many guests as you can comfortably accommodate, and make sure all parties are compatible.
Even if you're only planning to share small snacks, inquire about dietary restrictions. Don't create a menu that overwhelms you. Remember you need to enjoy the party, too.
If you're planning to serve wine or cocktails, make sure to also provide a tasty non-alcoholic option.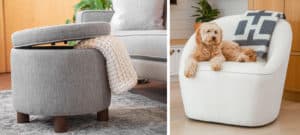 Shop the Round Storage Ottoman with Lift Off Lid here. Shop the Modern Barrel Swivel Chair here.
2. Send Invitations and Reminders
While shooting off texts is a perfectly reasonable way to make plans nowadays, you should opt for a proper invitation when entertaining. Sending an electronic or written invitation lets your guests know that you're including them in something special. Online invitation websites enable you to design invitations that reflect the style of your event, track RSVPs and set up automatic reminders. Sending a reminder to your guests is valuable nowadays, as people's busy lives and stress levels can make even special events slip through the mental cracks.
A few tips for your invitation:
Send your invitation about two weeks before the event, so both you and your guests can plan accordingly.
Include the date, time, type of function and dress code.
Let people know what you're planning to serve, if they should bring anything and inquire about dietary restrictions.
Make sure to include any Covid-related requirements, such as rapid testing, vaccination and masking requirements.
If you have pets, make sure to let your guests know in case they have allergies.
3. Prepare Your Space
When hosting a gathering in your home, make sure to create a clean and inviting environment. Stow any clutter, remote controls or other odds and ends that detract from the party aesthetic. Storage ottomans make it easy to tuck things away while providing extra seating for guests. If you don't have a coat closet or rack, make sure you have a plan for outerwear.
Follow this cleaning checklist to make sure your space is ready:
Dust surfaces and vacuum floors
Remove lint and pet hair from upholstery
Thoroughly clean the bathroom, including the sink, floor, mirror and toilet. Make sure you have clean hand towels and that you aren't on the last legs of your bathroom tissue and soap.
If using special cutlery, dishes and stemware that you don't regularly use, make sure to clean them ahead of time as they've likely gathered dust in the cupboard.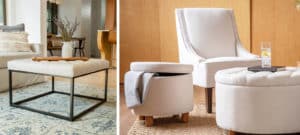 Shop the 28" Square Button Tufted Metal Ottoman here. Shop Storage Ottomans here.
Dazzle Your Guests with Wovenbyrd
Entertaining is one of life's simple joys, especially when your home is a place that truly reflects your spirit and your style. Wovenbyrd crafts our furniture with you and your guests in mind, creating comfortable, functional and beautiful pieces that grow with you as you build memories in your home. Our collections represent a variety of moods and tastes, with styles and fabrics to help you tell your own style story. Discover the pieces that will inspire you to bask in your space and throw more parties by shopping at Target, Wayfair, or directly on our website. For added inspiration, or even a fun party game, take our furniture quiz. We look forward to attending your next soirée.