The Ottoman Empire was a global influencer that spread its flavors, styles and scientific discoveries for hundreds of years. Its namesake piece of furniture, the ottoman, got its start as a royal footstool before becoming a common form of seating that encouraged social interaction.
Today, ottomans are a staple of living room design around the world. Stylish and versatile, ottomans provide a variety of comfort and decor solutions that elevate the look and feel of a space. Here are some of our favorite pieces to enhance your living room aesthetic.
1. Make a Modern Statement with Living Room Ottomans
Decorative ottomans are an instant statement maker. Depending on the size, ottomans can easily be used for seating and even take the place of a traditional side or coffee table. Placed between accent chairs, the right ottoman can bring the aesthetic cohesion you're looking for, adding maturity to your interior design.
The golden frame and deep blue velvet of this 24" Button Tufted Metal Decorative Ottoman bring a sophisticated, modern look to living rooms while enhancing comfort and offering a variety of functions. From occasional seating to decor solutions, this piece is a style treasure.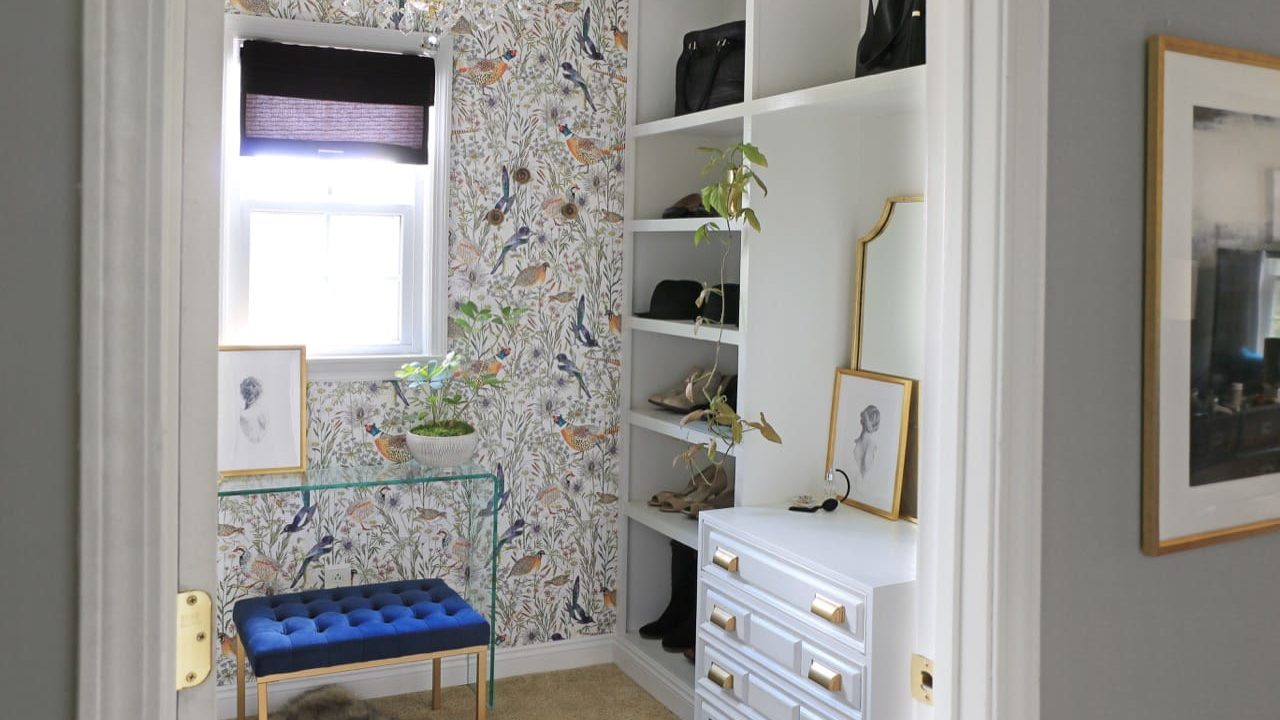 2. Create a Clean Vision with Storage Ottomans
Perhaps the most versatile modern ottoman is the storage ottoman. In a living room, storage ottomans are a clutter-reducing lifesaver. Stash cables, game controllers and other items that may be useful but aren't the most attractive. For families with young children, having an easily accessible space to store toys can help keep a sense of style and normalcy.
This Large Round Pintucked Storage Ottoman with Lift Off Lid is a particularly special piece. Available in a variety of upholstery options and colors, it easily finds its home in virtually every aesthetic. Its refined look adds status to your living room while its generous storage can hold whatever you don't want seen.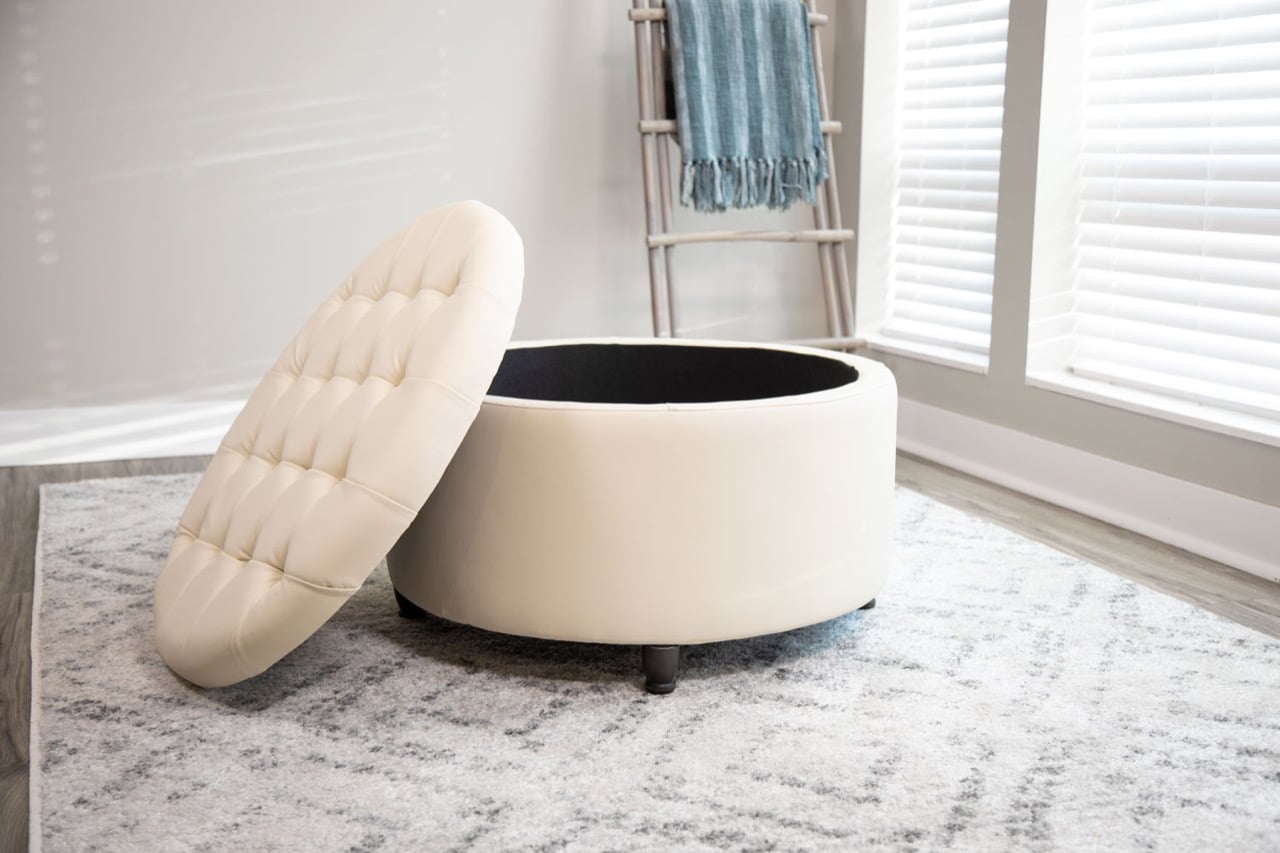 3. Add Texture with Pintucked Ottomans and Poufs
When looking to elevate your living room design, texture is key. Ottomans and poufs are brilliant ways to add both physical and visual interest while improving the functionality of your space. Details like pintucking and button tufting offer visual depth, while fabrics like velvet and faux shearling enhance the tactile experience.
This trio of round and square poufs can be combined to deliver stunning style and texture. Mixing and matching upholsteries and colors within your existing living room palette, these pouf ottomans can be placed together or scattered throughout your space with enchanting results.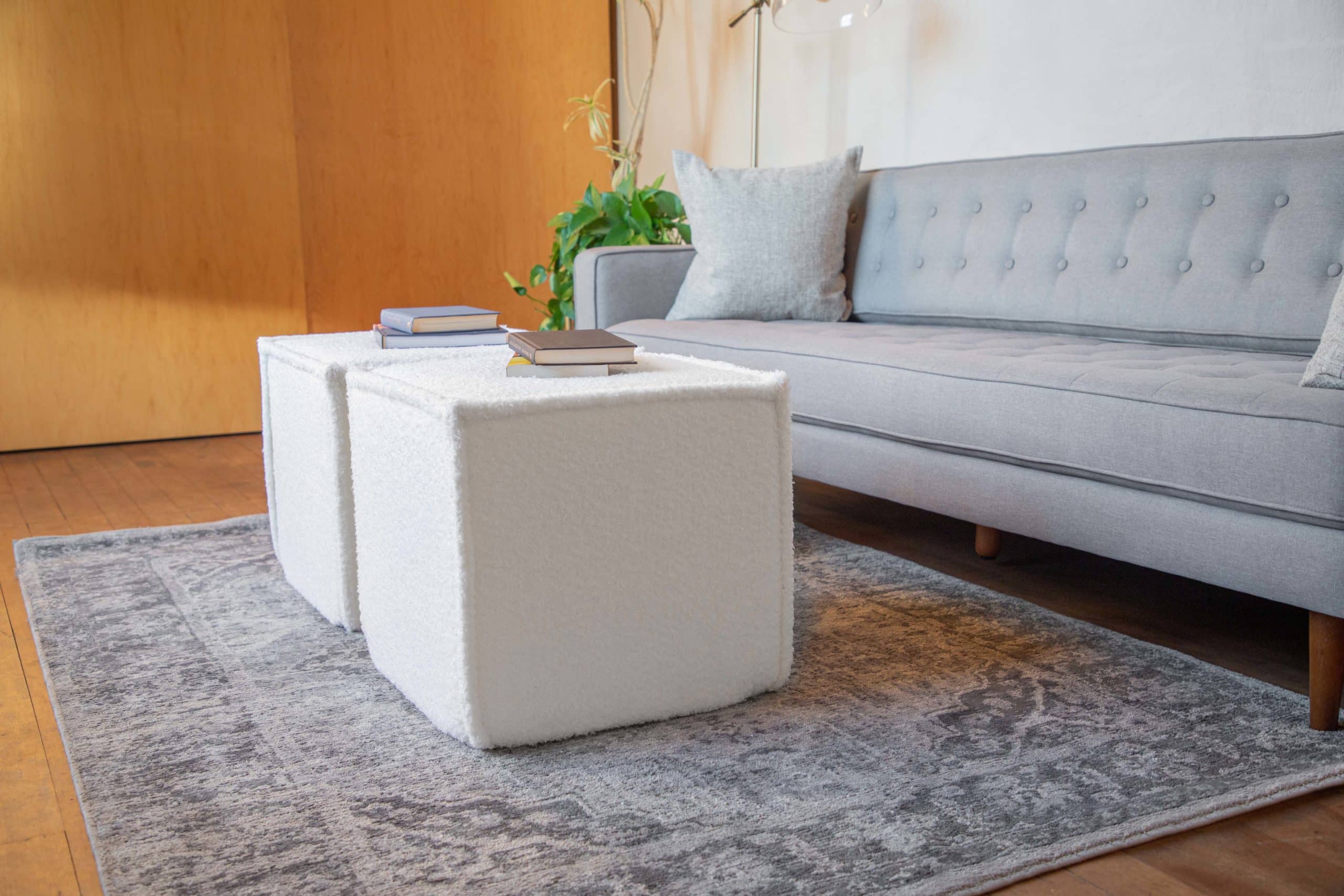 Elevate Your Living Room Style with Wovenbyrd
Wovenbyrd is all about bringing out the best of your personal style with exquisite modern furniture. We prioritize both form and function, offering a variety of beautifully crafted decorative, storage and pouf ottomans, accent chairs and more. We empower our customers to expertly elevate their style from the living room to the entryway and beyond.
Find more Wovenbyrd style-makers at Target, Wayfair, or directly on our website.