Dining rooms were once a focal point of the home, but for many they have become a place to stash a purse when running through the door, only tidied up for special dates, dinner parties or holiday meals. With busy lives and schedules, dining at home often means grabbing a seat on the couch and catching up with the latest binge-worthy show. Because we spend so little time in our dining rooms, they tend to take a backseat to other areas of the home when it comes to design and decoration, making them an untapped source for both interaction and style.
Craig Claiborne, a celebrated New York Times food critic, once wrote a treatise dedicated to the joy of dining alone at home and the value of making the experience special, and Wovenbyrd agrees. Bringing ambience and elegance to your dining room not only makes your home feel better but elevates your home dining experience, whether you're entertaining guests or setting a table for one.
A great way to make your dining room more inviting, more impressive and more likely to be used, is by swapping out traditional dining chairs for eye-catching, statement-making accent chairs. Read on for Wovenbyrd's guide to elevating your dining room with accent chairs.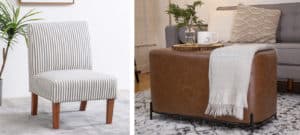 Shop the Armless Slipper Accent Chair here. Shop the 32" Modern Decorative Bench with Metal Base here.
Feast Your Eyes on Farmhouse Charm
Cozy and stylish, farmhouse-inspired interior design has captivated the country in recent years. Farmhouse style conjures up a sense of comfort and home with its use of patterns, wooden elements and gentle color schemes. What better place to harness the warmth of farmhouse charm than in the dining room? Wovenbyrd's Armless Slipper Accent Chair evokes homespun loveliness with heightened hallmarks of farmhouse design. Upholstered in soft textured woven fabric with a classic striped pattern in light gray or navy blue atop wood-finished legs, the Armless Slipper Accent Chair brings rustic elegance to the dining room. Scaled to fit around the dining table, these chairs provide comfortable support to last well into a dessert of peach cobbler or strawberry shortcake.
Serve Up Bohemian Glamour
Paris's Montmartre district rose to timeless, international fame with the lifestyle of its 19th century countercultural scene. These bohemians adorned their world in rich textures, exciting art, great company and plenty of wine. The effortless glamour of these free spirits continues to inspire modern style that is ripe for an exquisite dining room. With the Modern Barrel Accent Chair, Wovenbyrd captures the luxurious zest for life embodied by these turn-of-the-century accidental influencers. Lush velvet, rolled arms and espresso wood finishes elegantly combine to bring an exotic flourish to your dining experience. The gentle slope of the back makes for an easy transition from dinner to drinks with a side of revelry. Even dinners alone will leave you feeling filled with joie de vivre.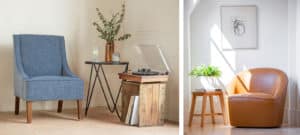 Shop the Swoop Arm Accent Chair here. Shop the Modern Barrel Swivel Chair here.
Bring Sophistication to the Table
A dedicated dining room inherently carries the cachet of sophistication and purpose, providing a great opportunity to show off your most discerning tastes. A great source of inspiration for an elevated dining room is the distinguished design of Ivy League reading rooms. Bold, balanced pieces with refined finishes provide a polished setting for weeknight dinners and Sunday brunch alike. Capture a cultivated look for your dining room with Wovenbyrd's Swoop Arm Accent Chair. Available in a variety of supple upholsteries with walnut hued wooden legs, the Swoop Arm Accent is an impressive statement maker that offers a commanding style fit for scholars or heads of state.
Give Your Dining Room a Renaissance with Wovenbyrd
You deserve to see the best of you in every room of your house, including your dining room. More than just a place to grab a bite, your dining room provides a dedicated space for simple pleasures and memorable evenings with friends, so give yours a chance to sing. Wovenbyrd's accent chairs fit seamlessly into a variety of home décor and are scaled to fit many different dining tables, making them perfect for heightening the aesthetic and style of your dining room. Built for both stunning form and versatile function, Wovenbyrd furniture enables you to give shape to your design dreams in every space, from the dining room to the mud room. For curated style suggestions, take our furniture quiz. Shop our collections on our website.