The holiday season is a bright and festive time during which people from many cultures break through the gloom of winter to celebrate old traditions and new. Friends and family come to visit, gifts are exchanged and we change out our fruity and floral candles for woodsy pines and spicy cinnamons. One of the universal joys of this time of year is creating festive home decor. People head to their favorite shops to pick up new throws and pull their holiday boxes out of storage to put up their treasured holiday keepsakes. We at Wovenbyrd love this time of year. We craft elegant, versatile furniture that lends itself easily to bringing magical elements to your home decor. We've put together some styling inspiration for your favorite Wovenbyrd pieces.
Transform Your Decorative Bench or Ottoman into a Holiday Display
Wovenbyrd's decorative benches and ottomans make wonderful displays for seasonal decor. Top your decorative bench or ottoman with your favorite tray and select some holiday favorites to showcase. A small tree, old Christmas books and vintage tin toys tell a story of youthful magic. For Kwanzaa, top your tray with your kinara, a small drum and each day place an item to represent the principle you're celebrating. If you're celebrating Yule or Solstice, place candles and evergreen branches on the tray to welcome light into your home. Placing your decorative bench by the window allows you to share your bright decor with passersby, spreading the holiday spirit to your neighbors.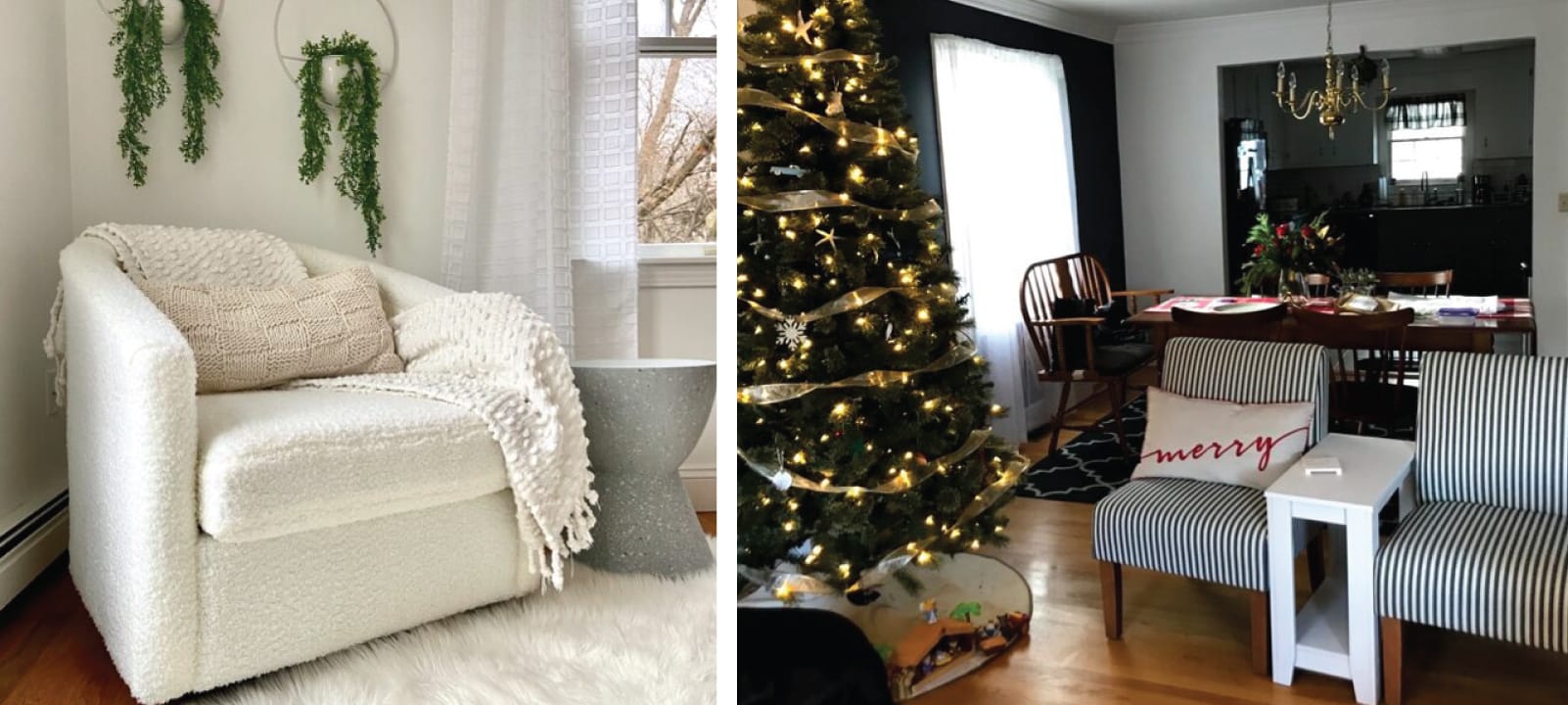 Shop the Classic Barrel Swivel Chair here. Shop the Armless Slipper Accent Chair here.
Add Festive Texture to Your Velvet Pieces
Wovenbyrd's velvet accent chairs bring elevated texture to your home decor throughout the year. At the holidays, you can take this to the next level with throw pillows and blankets. Metallic silver and gold throw pillows in faux leather bring a holiday party feel to your dark navy and light pink pieces. Jewel-toned satin pillows bring the same energy to your gray velvet chairs. Look for faux fur throw blankets in bright white or deep grays and blacks to add coziness and glamour to your holiday styling. The combination of textures in your blanket, pillow and chair will feel distinctly festive and delight your holiday guests.
Place Holiday Packages Beneath Your Metal Frame Ottomans
Make use of the space below your Wovenbyrd metal frame ottoman by placing boxes decorated with wrapping paper, elegant ribbons and jolly bows beneath them. For smaller square ottomans, consider placing three boxes of decreasing size one on top of the other, each wrapped in a different but complementary paper, and the smallest topped with a bow. This is also a great way to showcase gifts while you wait to share them with their recipients.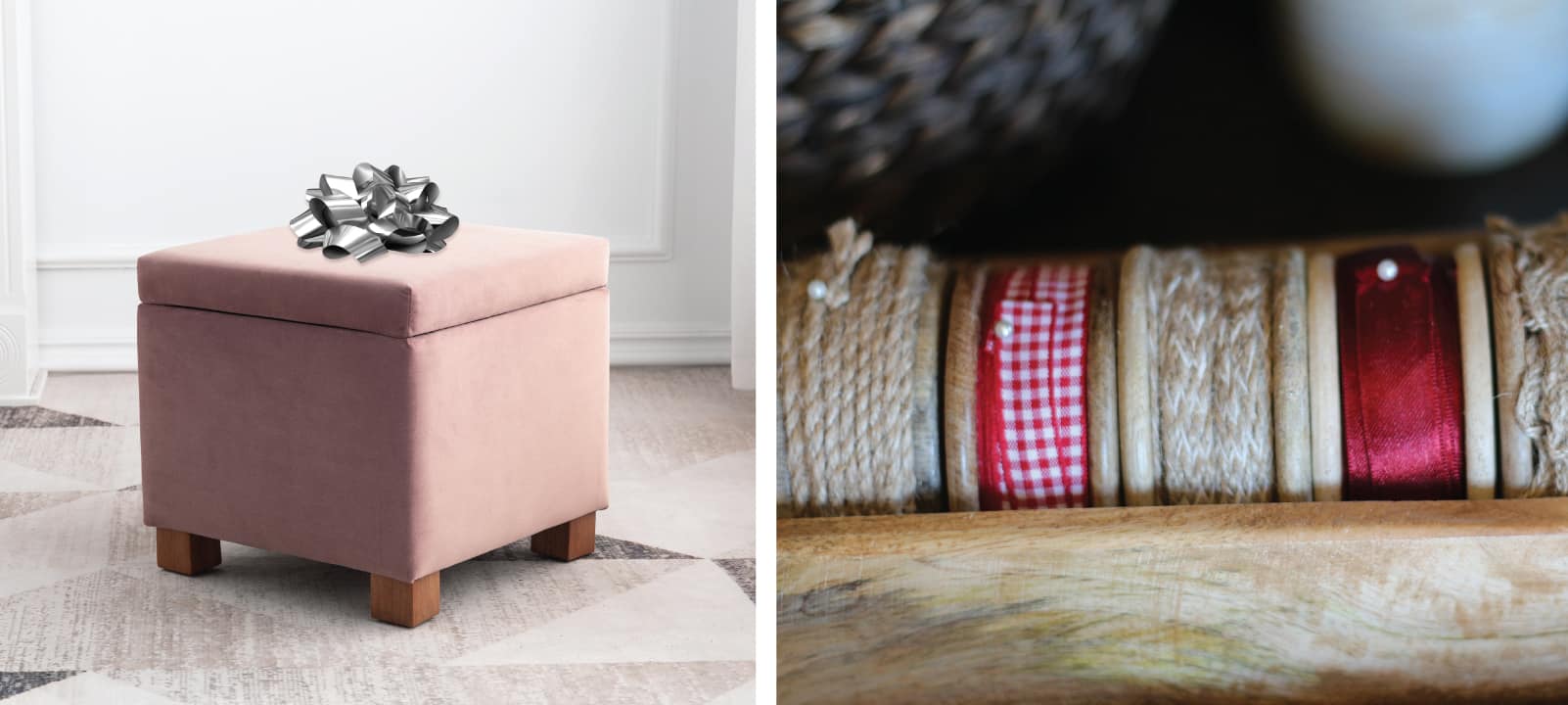 Shop the Round Storage Ottoman with Lift Lid here.
Tie Satin Ribbon Around Poufs and Pintucked Ottomans
You can also make your Wovenbyrd pieces look like gifts themselves with satin ribbons. Drape the ribbon over the top of your pouf or ottoman, leaving about 8 inches for the tail of the bow. Bring the long end of the ribbon around the bottom of the piece and then back to the middle on top. Cross it with the short end of the ribbon, then around the other direction to make and x. When you've done this you're ready to cut the long end so it matches the short one to make your bow. Fold both ends of the ribbon into loops. Cross the left loop over the right to make a smaller loop in the middle. Pull the left loop back through the smaller loop you just made and tighten it. Voila! You still have a functional ottoman or pouf with some added holiday flair.
Place Battery-Powered Lights Beneath Short-Legged Pieces
Adding a cluster of battery-powered lights beneath Wovenbyrd's short-legged ottomans and benches is a simple way to bring ethereal holiday loveliness into your home. Using battery-powered lights eliminates the clumsy look of wires searching for a plug, and they typically have several settings for movement and speed if you want to add some extra pizzazz.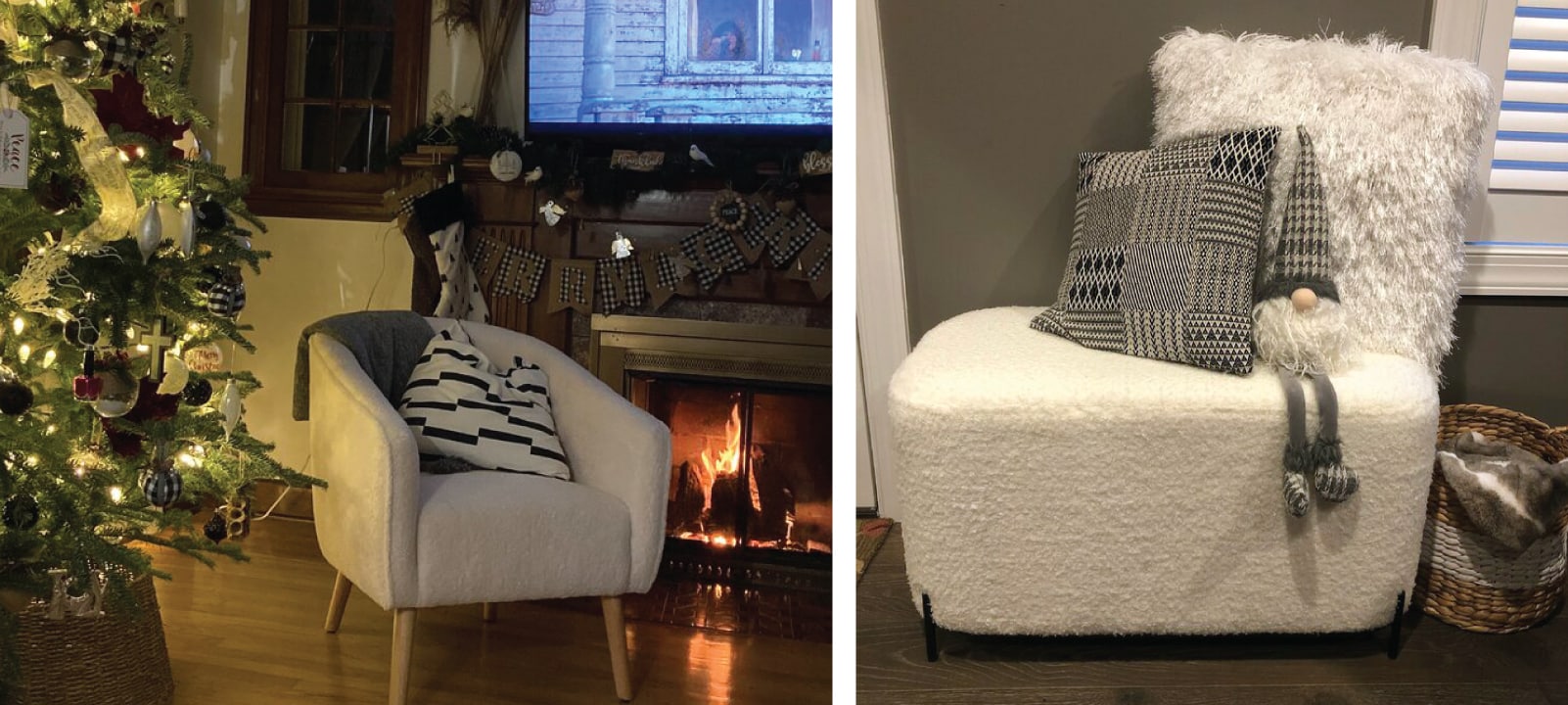 Shop the Faux Shearling Barrel Accent Chair here. Shop the 32" Modern Decorative Bench with Metal Base here.
Cozy up Your Nest with Wovenbyrd
At Wovenbyrd, we believe that home decor is an extension of the spirit. We showcase our personalities, taste and dreams through our style. The holidays offer a wonderful opportunity to bring even more joy to our home style and to share that with our most loved circles. Our furniture is designed with you in mind, so we pair classic style elements with modern elegance and versatility. We love seeing our customer's holiday home decor, so if you take inspiration from this post or have other favorite holiday stylings for your Wovenbyrd pieces, we'd love to see them! Tag us on Instagram or Facebook using handle @wovenbyrd. If you'd like to add more pieces to your Wovenbyrd collection, visit our website.