Winter seems to show up every year, doesn't it? With colder temperatures, grayer landscapes, and shorter days, it can be easy to catch a little bit of the winter time blues. When there's less sunshine outside, we need to find ways to make our inside spaces brighter. With a little bit of planning and imagination, we can turn our homes into the perfect winter getaways, keeping us cozy all season long. The nesters at Wovenbyrd have 5 tips for cozying up your home this winter.
1. Add Snuggly Elements
While it isn't very fun to be cold, bundling up under a soft blanket not only warms us up, but releases the serotonin we need to stay healthy and happy in the winter. Weaving your favorite textiles into your winter nest provides ample opportunities for snuggly warmth and pops of color to contrast the cold, gray world outside. Throw blankets, toss pillows, area rugs and soft poufs and ottomans are perfect winter additions that make your space look and feel cozy. Don't limit your snuggly elements to your living room and bedroom. Add cushions to your dining room chairs, a plush bath mat in the bathroom, and special house slippers to wear throughout your nest.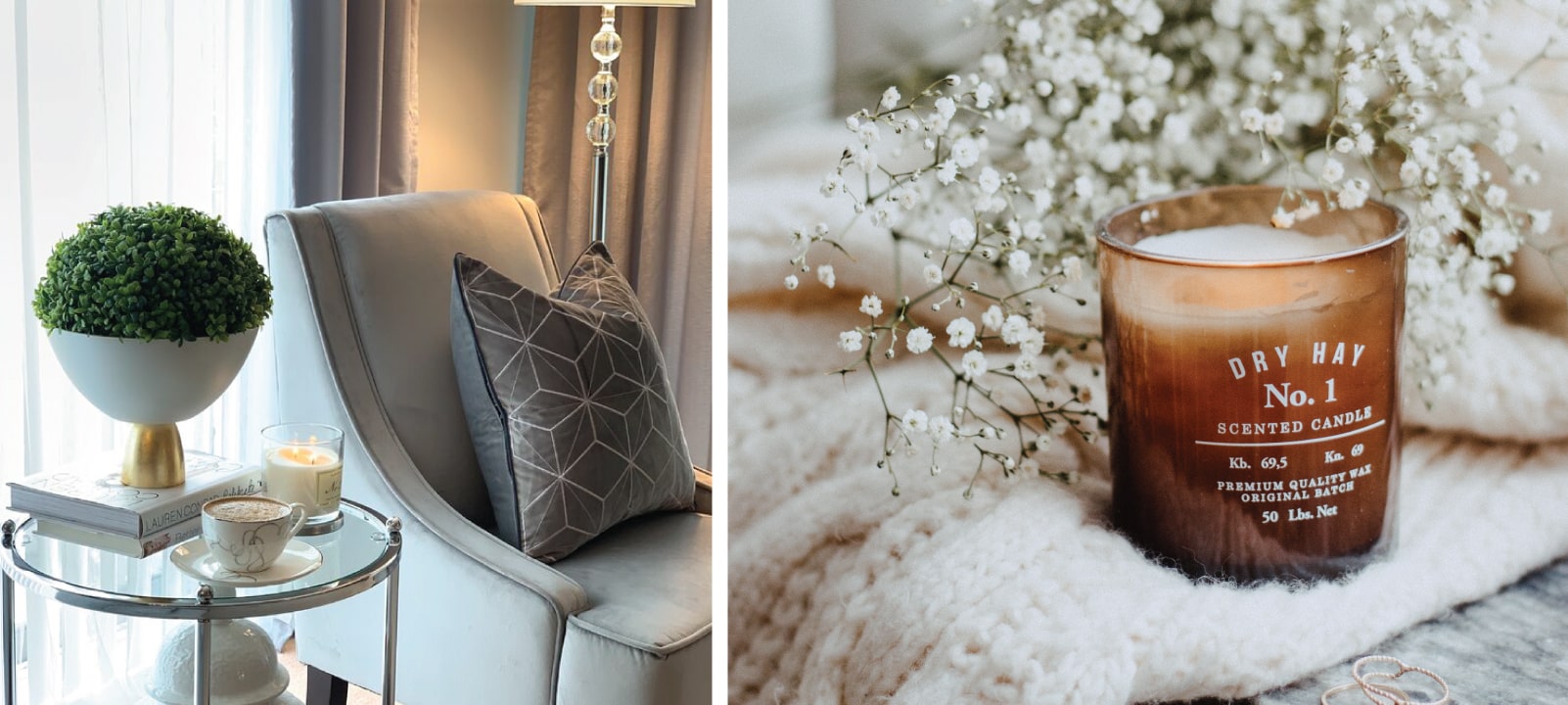 Shop the Swoop Arm Accent Chair here.
2. Stock Up on your Favorite Candles
Candles are ambiance boosters year-round, but the combination of warm light and comforting scents make them a wintertime essential for the home. Seasonal scents like cinnamon, pine, and cedarwood will ignite your senses while providing extra benefits for your mental health. The gentle glow of candlelight will add softness to the lighting of your nest while evoking feelings of warmth. Add a cluster of candles to your dining room table to bring winter romance to your meals and top your coffee table or decorative benches with trays of seasonal decor accented with light-catching votive holders.
3. Create Functional Design Scenes in Unused Corners
In the starker light of winter, those empty corners in our home can turn from minimal to cold in the blink of an eye. When your space feels fuller, it will also feel warmer. You'll also have the added benefit of discovering new ways to use your space when you've been spending too much more time indoors. Place a soft accent chair near a window and toss a bright blanket over it. Find a charming floor lamp to brighten up a dark corner. Place your record player on a side table, and stack your favorite hardbound books beneath it.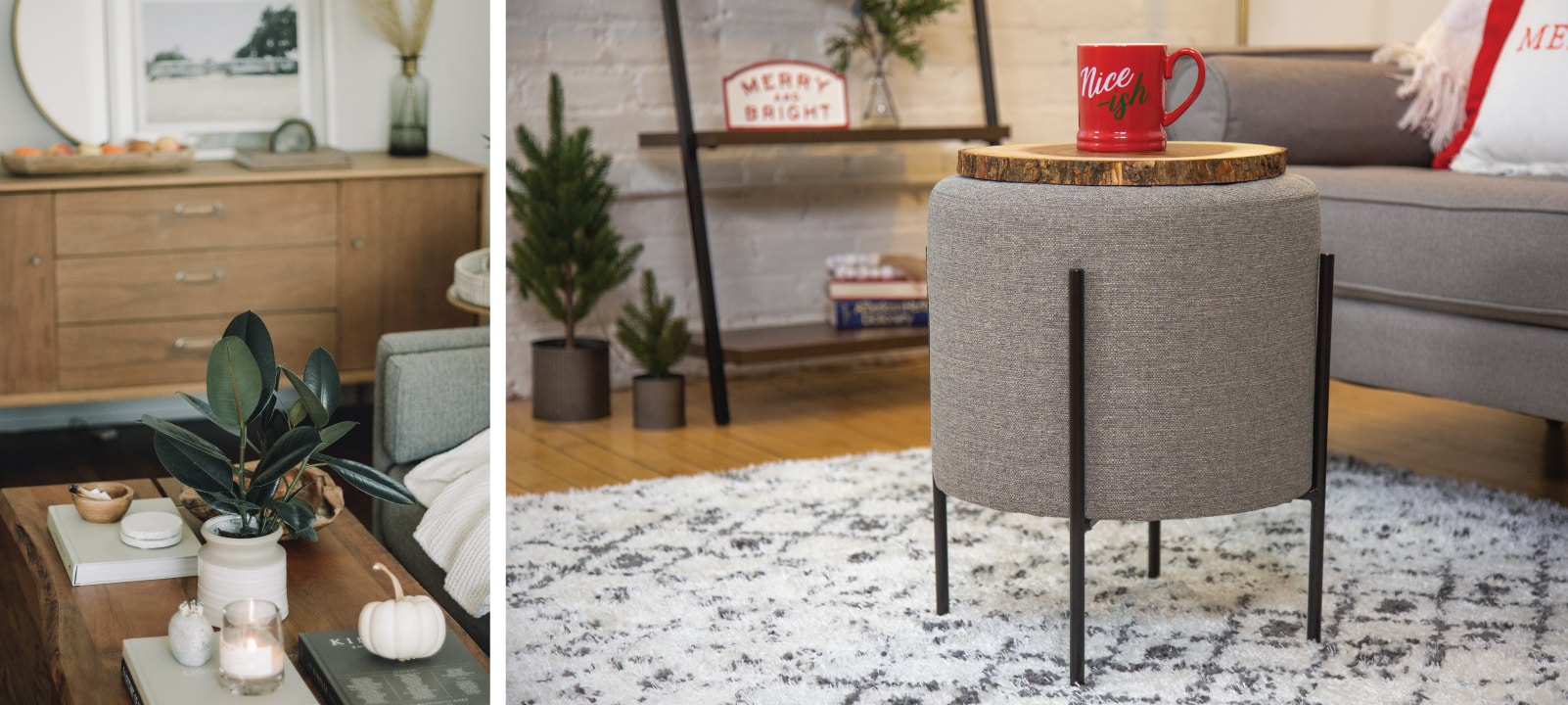 Shop the 16" Modern Round Ottoman with Metal Base here.
4. Bring Some Nature Inside
Invest in houseplants this winter to make your space come to life. The presence of live plants will evoke those warm summertime feelings and make up for the lack of color outside. Houseplants also have proven health benefits, like air purification, mood boosting, and humidification, which is always a happy bonus in dry winter months. Decorating with pinecones, dried branches, and holly is another way to bring nature indoors while giving a nod to ancient traditions of winter coziness.
5. Nest with Circles
When it comes to design, circles evoke feelings of unity, togetherness, and protection. In winter, we could all use a little bit of that to help us feel cozier and more connected. Bring round design elements into your home to make your nest feel more inviting and homey when the weather gets cold. Consider a round mirror to reflect more light in your space, a cozy rounded swivel chair to snuggle up in, and round rugs for your living room.
Cozy up Your Nest with Wovenbyrd
At Wovenbyrd, we believe that home should be a place where we truly see ourselves. See yourself at home this winter by adding cozy accents to your space that weave together style, function, and timeless charm that will enhance your nest throughout the colder months and beyond. With lush velvet, soft faux shearling, and delightfully decadent faux fur, our furniture is a passport to comfort, connection, and contentment. Discover new favorite corners of your nest at Wovenbyrd. Shop our collections at Target, Wayfair, or on our website.